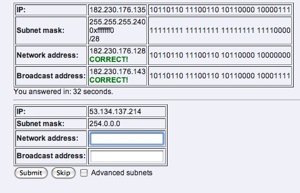 Here is a web-based quiz I wrote a while back to
practice your subnetting skills
. [
Update
: in 2014, I converted it to Javascript so it would run completely in your browser]. Given an IP and a netmask, you derive the network and broadcast addresses. I wrote it to prep for the
CCNA
exam and to sharpen my on-the-job subnetting skills. For extra challenge, you can select "Advanced subnets" to have the program randomly give you the netmask in either dotted decimal (the default), hex, or slash notation.
The obnoxious cliche "practice, practice, practice" really describes the best way to get better at subnetting. It's part memorization, part basic math skills, but 90% practice. In other words, stopping after you understand how the bits work isn't enough, to be quick you need to repeatedly drill yourself with a program like this one.
I hope to publish a followup article on one way to easily subnet soon. If you're interested in the quiz program itself, you can
look at the source code on Github
.
Update March 26, 2009:
I ran across an article called
Subnetting Made Easy
that gives an excellent and mercifully short explanation of how to subnet. The way he describes is exactly how I do it too. This technique works well, but I've always found it a little hard to explain to others, I'm glad someone else found a good way to convey it.